Feb 27, 2014 @ 09:39 AM — by Dr. Price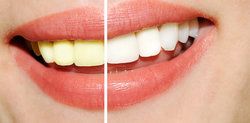 Do you find that you cover your mouth when you speak or smile? Have you noticed that your teeth are now yellow or gray? Has your smile become lackluster and dull? Fortunately for Decatur patients, it is now easier than ever to breathe new life into your smile, giving it the beautiful, bright sheen to make it movie star worthy.
While most patients are good candidates for teeth whitening, traditional whitening through the use of topical whitening solutions and agents may not be the best treatment option for everyone. However, various whitening options that are both traditional and non-traditional exist, making it possible for everyone to enjoy the benefits of a dazzling smile.
The first important step is to determine if you are a good candidate for topical teeth whitening. Once you figure out your teeth whitening status, talk to a qualified cosmetic dentist about which whitening procedure best fits you and your specific needs.
Good Candidates for Teeth Whitening
Patients who are considered good candidates for traditional teeth whitening typically possess the following characteristics:
Unrestored teeth and healthy gums
Discoloration that is superficial and stems from surface stains
Realistic expectations in regards to teeth whitening outcomes
Do not smoke
Are in generally good health
Bad Teeth Whitening Candidates
Teeth whitening is not recommended in the following instances:
Patients under 16 whose tooth pulp is still developing
Pregnant or lactating women
Anyone with sensitive teeth and/or gums
Anyone allergic to peroxide
Patients with gum disease
Patients with defective restorations or requiring restorations
Stains and tooth discoloration come from the inner tooth as a result of tooth decay or acid erosion
Attempting to whiten teeth that are not considered healthy may result in extreme sensitivity as well as a less than desirable outcome since whitening agents cannot penetrate into pre-existing decay.
Whitening solutions are also ineffective when used on dental restorations such as fillings, bonding, or crowns since dental restorations do not whiten. The outcome would result in teeth without restorations appearing lighter than those with restorations, causing uneven color.
Alternative Tooth Whitening Methods
Even those patients who are not considered good candidates for traditional teeth whitening can still achieve a white, radiant smile through other cosmetic dentistry means.
The first step prior to considering any type of whitening is to ensure that you take the necessary measures to restore your teeth to good health and that any dental issues such as gum disease, cavities, or necessary restorative work is completed.
Patients who are not deemed to be good whitening candidates may still achieve a radiant smile from getting porcelain veneers, which are thin pieces of porcelain used to recreate the look of natural teeth. Porcelain veneers are custom-made and fit in order to achieve your desired tooth size, shape, and color.
Learn More about Teeth Whitening Candidates
Whether or not you are a good candidate for traditional teeth whitening, thanks to modern cosmetic dentistry, you can now attain and enjoy the benefits of a beaming smile. Boost your confidence, rejuvenate your smile, and never have to worry about covering your mouth with your hand again. Contact the experts at Georgia Dental Center and schedule a consultation today.